Reading - Franchising Case Studies
You are now going to read two case studies concerning people who decided to buy a franchise. The studies show how the franchise is going and how the franchisee´s feel. Read and answer the questions below.
1. Female Franchising Pioneer
Since opening a FASTSIGNS´ sign and graphics centre in Chelmsford, Essex, in 1996 with Ian Clemson, Jenny Boreham has been successful as well as a female pioneer in franchising in the United Kingdom.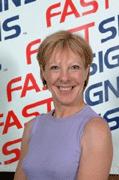 At the 2004 FASTSIGNS International, Inc. convention held recently near Dallas, Texas, the centre received the second highest award for sales in 2003 of any single FASTSIGNS' store in the United Kingdom. A few years ago, the centre, which provides a full range of sign and graphic solutions, received a similar international award for sales achievement.
Now, as the sole owner of the centre, Jenny is the only single female owner of a FASTSIGN' store in the United Kingdom. She believes that both the FASTSIGNS' network and franchising in general are friendly to women.
"The sign and graphics industry is one in which women can compete very effectively, and FASTSIGNS' support for all its franchisees is very comprehensive," said Jenny.
"Signs and graphics are a form of marketing for business, and this is not a gender-specific industry," she said.
"The Chelmsford FASTSIGNS' centre has been one of our most successful stores in the United Kingdom, and we look forward to its continued success," said Larry Lane, FASTSIGNS' senior vice president of franchise relations and development. "Jenny excels in sales, customer service and quality workmanship, which should help ensure future successes".
Until very recently, Jenny also worked with FASTSIGNS International to develop franchisees in the United Kingdom. Jenny has vacated that role to take on full-time management of her FASTSIGNS' centre.
FASTSIGNS International is an international franchisor of sign and graphics centres, and recently opened its 450th centre worldwide. Centres are located in the United Kingdom, the United States, Canada, Mexico, Brazil and in Australia, where they operate under the name, SIGNWAVE.
2. Prontaprint Brighton Rocks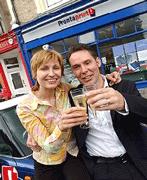 Within Brighton's cosmopolitan buzz and energy, young entrepreneurs John and Angela Wilkinson run their Prontaprint Franchise with the same dynamism that encapsulates the south-coast city.
In just two years at their print-on-demand centre they have moved up over 60 places in the Prontaprint rankings, more than doubling its turnover from 120 thousands a year to well past 240 thousands. This business triumph has brought with it all the trappings of success.
"Running a Prontaprint Franchise has radically changed the lifestyle that Angela and I have in a positive way," explains John. "When we first came here I had previously worked as a sales consultant and had grown tired of the rat race, helping other people grow their companies. We decided that we wanted our own business direction suited to our personal needs and Franchising seemed the natural way forward.
"Now we have the freedom to run our own business but with the back up and support of a well known brand. Prontaprint is one of the best-known names you can trade under with 93 per cent prompted brand recognition according to recent research. That really limits the risks of launching your own start up."
"We did our research and we found Prontaprint to be a dynamic franchise organisation which suits people with the ambition and drive to succeed," adds Angela. "Being relatively young, our energy has more than seen us through and Prontaprint has provided us with a proven formula for success.
As long as you apply yourself as a Franchisee, the rewards are definitely there for the taking."
The Prontaprint network offers a vast range of major organisations and blue chip clients which its Franchisees can develop print projects for. Names such as British Airways, Hush Puppies, Oxfam, Exel Logistics and De Vere Hotels all utilise Prontaprint's business-to-business print solutions for their printed communication.
And its not just Prontaprint's clients that make the brand an attractive proposition for potential Franchisees. The company also has one of the highest ratios of support staff to Franchisees in the UK Franchising industry - not surprising when you consider Prontaprint's commitment to quality and the fact that the organisation is a founder member of the British Franchise Association.
Continues John: "Prontaprint's intensive training courses, sales kits, marketing collateral, handbooks, customer care guides, direct mail and PR support all play a crucial role in promoting the brand. As Franchisees we also receive comprehensive support in sales and marketing, property matters, financial administration, IT, technical development, personnel and business planning. In every case we benefit from one of the best support programmes in the business."
Concludes Angela: "Our business is really moving in the right direction thanks to the support we receive and, although the 'know-how' is there from Prontaprint and it's their name that goes above the door, it's really is up to the Franchisee to make success out of it. That said, there's no doubt that we would recommend a Prontaprint Franchise to anyone interested in running their own business and making lots of money."
The Prontaprint network is truly forging ahead, recruiting ambitious young entrepreneurs with a strong sales and business background who can carry the business even further forward. (Case studies taken from The British Franchise Association official Website - www.british-franchise.org)
According to the text are the following statements True or False? If the statements are False, please correct them.
1)
Since Jenny Boreham has taken over Fastsings in Chelms ford sales have dropped
2)
Jenny runs Fastsings as a partnership
3)
Both men and women can work alike in the Graphics Industry
4)
Thanks Jenny´s charisma andd determination Fastsings, Chelmsford is one of the better stores in the UK
5)
Fastsings only operates in Europe
6)
John ans Angela Wilkinson doubled ProntPrint´s turnover in their first year of business
7)
Jhon´s way of life has hardly changed
8)
Anyone can make a franchise work
9)
Famous companies rely on prontaprint´s services
10)
If you are interested in a franchise, Prontaprint has great prospects for the future

Corregir

Ver Solución

Limpiar