Reading - Do you really need to be quoted happy?
Do you really need to be quoted happy?
Every day "peace-of-mind" insurance offers land on doormats across the country. The utility companies are now at the forefront, blitzing householders with various plans.
But are they worth it? Some offer valuable protection, others are near junk.
We found that a typical family could spend more than $7,000 a year on cover if they bought all the offers. Our guide pinpoints the insurances worth having, and the ones you should simply chuck in the bin
The Guardian, Saturday February 19, 2005
Home contents insurance

Cost? $135 (Norwich Union - "new for old" cover, includes no claims discount and $60 excess). Average contents policy is $151, although shopping around can reduce this to $87, according to the AA. Standard policies cover loss or damage by fire, theft or flooding.
Worth having? You'd be daft to go without, but one in four households doesn't have it. In particular, many people who rent don't insure their possessions.
Travel Insurance

Cost? $175 First Direct (worldwide annual family policy).
Worth Having? Not at that price. Much better to go for one of the internet providers - Insurefor.com will offer the same family cover for $75, or a pared down version for $60 year.
Cost? For a cat, $45 (Saga basic plan) to $142.50 (Petplan - SuperCat). For a dog, Saga's minimum is $93, while Petplan's Supreme is $343. Prices depend on age, the excess and levels of cover.
Worth Having? If you seriously dote on your cat then it is worth it. For example, to fix a broken leg on a cat costs $1,000. But those on tight budgets will find the average $50 excess policy proves expensive and Moggy is better off staying fit and healthy.
Bicycle insurance

Cost? $50 (for a $500 bike).
Worth Having? Half a million bikes are stolen each year, but unless you own a $2,000 bike, avoid a stand alone policy and stick it on your home contents which will add $10-$15 to the premium.
Cost? $350 (comprehensive cover).
Worth having? The one insurance we are legally obliged to buy, but most of us pay too much because we are too lazy to shop around at renewal time. Insurers quote a low first premium and hope for an automatic renewal. Most people will save $50-$80 by switching.
Sports injury insurance

Cost? $59.40 (Pinnacle child policy) to $312 (B&CE Insurance) according to level of cover. Offers lump sum for broken bones and weekly payout to cover lost earnings while off work.
Worth having? Only if you're self-employed (and it runs out after 3-6mths). Largely a waste of cash for the employed. And why should children need it? An income protection plan may be better value for the self employed.
Critical illness insurance
Cost? Around $2,800 for a policy paying a one-off lump sum of $150,000 if you contract any one of the insurer's specified illnesses.
Worth having? Can be hideously expensive, and prices vary markedly. Regularly over sold as an add-on when people are taking out a mortgage. Use a broker such as lifesearch.co.uk to find a better quote; for $150,000 cover on a 47-year-old, it said NU charged $2,436, while BUPA were $2,820 a year.
Wedding insurance

Cost? $100 to $300 (British Insurance Brokers Association). Covers the bridegroom breaking a leg or the marquee burning down.
Worth having? If it's going to be a very fancy do, perhaps it's worth it. But the average couple can probably do without this additional cost.
Cost? For a $250,000 policy covering both partners should either die in the next 15 years, the Prudential charges $1,070. Legal & General is cheaper at $869 while Scottish Provident is around average at $1,225.
Worth having? This policy will pay out while the children are still at home. But before signing up, the parents should check on life cover provision at their workplace and through pension plans.
Mobile phone cover

Cost? The Link charges $96 for a typical policy for each contract phone. Pay-as-you-go phones for the children cost $19 to $49 according to the phone's value.
Worth having? Only if you are very careless, keep strictly to the policy conditions and are prepared to be patient in claiming. It is generally cheaper to buy a new phone. And most companies will give a reconditioned phone to contract customers whose phone is lost or stolen.
Cost? $24.84 (Saga - only available as an add-on to its home insurance). Insures items such as plants, lawns, rockeries, ponds, pergolas and gazebos for up to $1,000 against a range of incidents including theft and malicious damage.
Worth having? Cover for outbuildings (sheds, greenhouses etc) is standard with most buildings insurance policies, and most home contents policies also offer some cover for possessions in outbuildings and those in the open, says insurer ensure. So most people probably won't need garden cover.
Cost? Our family would typically pay $399 at Denplan assuming they were all in top dental health. This is not technically insurance but a form of maintenance contract which spreads costs monthly. The fees pay for almost all care.
Worth having? Children can normally find free NHS treatment. Adults can avoid sudden big bills should they need major dental care.
Alien abduction insurance

Cost? Yes, it does exist. A family is covered for life for a one-off $100 premium. The payout, assuming you survive the abduction and can claim, is $1m. It's only available from insurers GRIP.
Worth having? Depends on your view of aliens and whether you believe they will scoop humans up into spaceships and then return them to Earth. So far, no claims have been successful.
(Article reduced and pictures added)
(Haga doble click sobre las preguntas ver las respuestas; un click vuelve a posición original)
A) Answer the questions below: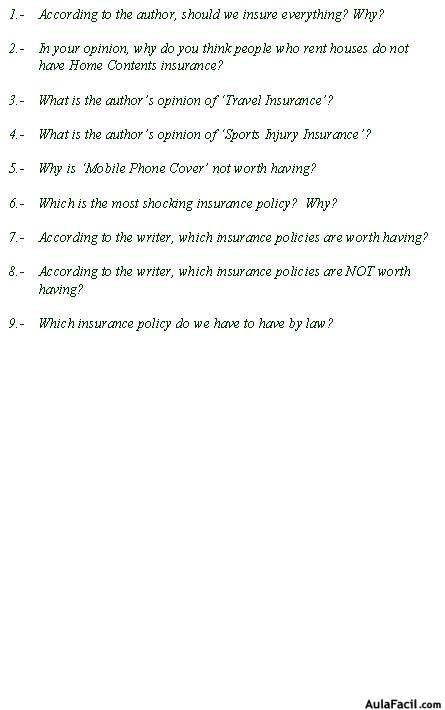 B) Find synonyms in the text for the following words (Words appear from the beginning of the article up to Critical Injury Insurance).
1)
Rubbish
2)
To throw away
3)
Silly
4)
Cat
5)
Changing
6)
Money

Corregir

Ver Solución

Limpiar