Speaking
Meeting up with friends.
Here are two photos of people meeting up with their friends. Tell us what you see in each photograph.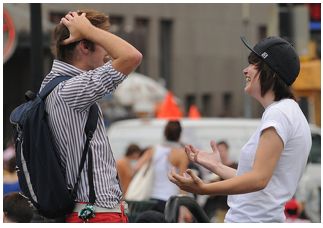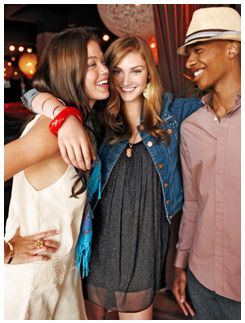 Try to talk for approximately 1 minute.
Back up prompts.
What are the people doing?
Where are they?
What are they wearing?
How do they feel?
The photographs showed friends meet up. Now, I'd like you to talk about when you meet up with your friends and what you do when you're with them.
Back up prompts.
Talk about when you meet up with your friends.
Talk about what you do when you meet up with your friends.
Talk about how much money you need when you meet up with your friends.
Talk about why it is important to have friends.
Reading
The people below on the right are looking for a venue for a party.
On the left, there are descriptions of eight venues.
Decide which venue would be the most suitable for the following people.
For questions 1-5, choose the correct letter A-H.
1. Carmen wants to celebrate her 30th birthday with 20 of her closest friends. She would like to go somewhere that serves food and drinks. Most of her friends will drive so parking is essential.

A. The Windmill Pub

This country pub is a great place to celebrate any occasion. We welcome adults, children and pets. Our staff can provide catering for small parties and parties for 50 people. We have a large outside garden which is ideal for kids and pets.
2. Ben and Gemma are looking for somewhere to celebrate their wedding. They want to invite 80 people and would ideally like to hire two rooms: one for eating and one for dancing. They don't want to spend a lot of money.

B. Summer Lodge

The lodge is set in the countryside and is a great place to hire for intimate parties. It holds up to 30 people. Food and drinks are not provided but you can bring your own.
3. Kristina would like to find a place for the dog club's Christmas party. There are 30 people in the club and 30 dogs. She needs somewhere with a large garden.

C. Paradise Bar

This beautiful bar is in the centre of London. You can hire one or two rooms here from 7pm until 1am. Room 1 holds 30 people and room 2 60 people. We do not serve food in the evenings but we do offer a 10% discount on drinks from 7-9pm.
4. In August, Alex and Katie are celebrating their 4th wedding anniversary and they would like a party to celebrate. They would like to invite about 50 guests for a drink. All of their friends live in central London.

D. Orchard Farm

This family farm has been converted into a beautiful venue for all types of celebrations. There is a large garden at the back (no pets allowed) and a large trampoline in the front. The farm caters for groups of up to 80 people and only serves cold food.
5. James and Susannah are looking for a venue for their son's christening. They think 60 adults will come and approximately 13 babies or small children. They would like a venue to provide sandwiches and drinks.

E. Walton Park

This attractions park is perfect for any kid's party. Kids pay a fixed fee and they can access all of the rides for three hours. The food court is open for their enjoyment and serves hotdogs and hamburgers.

F. Danbury Manor

Voted best wedding venue last year, this beautiful manor is the perfect venue. There are five rooms which you can hire and the staff can organise everything for you. If you want a stress free wedding which is more expensive than other venues, then look no further!

G. Hatty's House

This beautiful house is the ideal venue for a special celebration. It has two main rooms and this month there is a 30% discount on all bookings. Food and drinks served all day. Book now.

H. Forest Hills Golf Club

This golf course can be hired in the evenings for small parties. They have a large bar area and a kitchen that can stay open until late. There is plenty of parking if people come by car.
1)
2)
3)
4)
5)

Corregir

Ver Solución

Limpiar
Vocabulary - Members of the family
A. Write the opposites.
1)
Aunt
2)
Brother
3)
Stepbrother
4)
Mother
5)
Grandmother
6)
Great-grandmother

Corregir

Ver Solución

Limpiar
B. Write the answers to the questions below.
Do you have a big family?
How many brothers and sisters do you have?
Describe your family.
Do you think families are important? Why / why not?
Phrasal verbs with get
C. Match the phrasal verb to its literal meaning. Use a dictionary if necessary.

1)
2)
3)
4)

Corregir

Ver Solución

Limpiar
D. Fill in the gaps with the correct phrasal verb.
1)
How often do you with your family?
2)
How long do you think it takes to a boyfriend or girlfriend?
3)
How well do you your parents?
4)
When was the last time you a family celebration? (past tense)

Corregir

Ver Solución

Limpiar
E. Now answer the previous questions with your own way.
Grammar – The future (ii)
Present continuous.
Utilizamos el presente continuo
1. Cuando ya sabemos lo que vamos a hacer en el futuro.
What are you doing tonight? I'm going to my swimming lesson.
Where are you going on holiday? We're going to France.
2. Usamos el presente continuo o 'going to' para hablar de los planes que tenemos.
We're going to grandma's house on Sunday for her birthday party. (present continuous)
We're going to go to grandma's house on Sunday for her birthday party. (going to)
Present simple
Utilizamos el presente simple para horarios (aviones, trenes, etc.) y para las cosas programadas.
My plane leaves at 2pm.
The class on Friday is at St Mary's school.
A. Fill in the gaps with an appropriate verb in either the present simple or present continuous.

1)
Tonight I my homework and then watching football on TV.
2)
What time your class on Friday?
3)
This weekend we to a Turkish restaurant.
4)
On Monday morning she the train that leaves at nine.
5)
They university in September.
6)
When shopping this week?

Corregir

Ver Solución

Limpiar
B. Find the mistakes and write the correct form.
1)
What time you finish tonight?
2)
Next Monday I going to see Aunt Tillie.
3)
What time will the plane leave?
4)
Jo and Alex get married in the future.
5)
This Saturday Elliot goes to the cinema with his cousin.
6)
I've got the tickets! We will see the new James Bond film tonight.

Corregir

Ver Solución

Limpiar
Listening
You will hear a conversation between Millie, a girl and her friend Dean, a boy. They talk about their family and friends.
Decide if each sentence is correct or incorrect.
If it is correct, choose A. If it is incorrect, choose B.
1)
Dean does not have a lot of friends.
2)
Millie believes that friends are as important as family.
3)
Dean only sees his family at special occasions.
4)
Millie and Dean both agree that Christmas is a time to spend with your family.
5)
Dean worries that his girlfriend is not going to like his parents.
6)
After talking to Millie, Dean realise that he has to relax about his girlfriend meeting his parents.

Corregir

Ver Solución

Limpiar
Writing
Your English teacher has asked you to write a story.
This is the title for your story.
Friends and family
Write your story in about 100 words.
_____________________________________________________________
_____________________________________________________________
Recording
Millie: I come from a really big family. I've got 5 brothers and sisters and 14 aunties and uncles.
Dean: That is a big family! My family's really small. There's only me and my brother and then my parents. But, I've got lots of friends to make up for it!
Millie: Well, at least you've got your friends. At the end of the day, I think that family and friends are both as important as each other.
Dean: I agree. I see my friends a lot these days as I've just left home. Saying that, I do see my family at the weekend and at parties and special occasions.
Millie: It's a bit different for me as my family are my friends. I've got 20 cousins and 2 of them are my best friends.
Dean: That's cool. So, do you see your family all the time?
Millie: No, not really. But one time when I think we all should be together, is at Christmas. I'm always with my family then.
Dean: Me too. In my family, Christmas is a three day celebration and no one leave the house for 3 days. We eat, drink and have fun.
Millie: That's how it should be. We play lots of games at Christmas and the first time my boyfriend came to our house at Christmas, he thought we were all crazy!
Dean: Really? Well, my girlfriend hasn't met my parents yet. I'm really worried she won't like them. Everyone says that they appear really unfriendly when you meet them for the first time.
Millie: I'm sure she'll love them. Relax and everything will be just fine.
Dean: I hope so. I guess I should take your advice and relax!