Reading 28º: William Shakespeare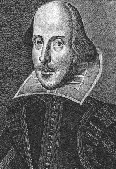 William was born in 1564 (we do not know the exact date). According to church records, he was baptised Wednesday April 26th 1564. William was the third child of John and Mary Shakespeare. William had seven brothers and sisters but only 4 of his brothers survived to adulthood.
John Shakespeare was a businessman. He was a famous man in Stratford. His wife Mary worked mainly at home.
William probably went to Kings New Grammar School where he was taught basic reading and writing. There is no record of William ever attending a university.
When William was 15 years old he bought a house in Stratford upon Avon. The house was one the most wanted properties in all of Stratford and it was the second largest house in the town.
In 1582, at the age of 18, William married the twenty-six year old and pregnant Anne Hathaway. Seven months later they had their first daughter, Susanna. Baptism records reveal that twins Hammond and Judith were born in February 1592. Hammet, William's only son died in 1596, at 11 years old.
In 1593 William entered his first poem - Venus and Adonis. By 1595 it is estimated that 15 of his 37 plays had been written and performed. In 1560 Williams's sonnets were published without his permission.
In 1600s William left his family and Stratford and went to London for around 20 years. William moved to London because he believed that there were more chances of his work being published and promoted.
William made the most money in 1605 when he bought more property. This investment made him a lot of money. Some academics believe that this investment gave William the time he needed to write his plays uninterrupted. In Stratford he was thought of as a businessman.
William died April 23rd 1616.
Although William Shakespeare is dead he lives on as one of the best poetry writers in the whole world. Academics study his works when studying English literature. His plays are still now performed in theatres all over the world. The town of Stratford on Avon pays tribute to him by having various museums and exhibitions devoted to the grand poet.
| | |
| --- | --- |
| Temario de Readings | Traducción |